Siljan Allards AB is located in Rättvik, Sweden, in the county of Dalecarlia, not far from the large lake Siljan.

We are one of Sweden's largest stainless steel fabricators, working on a very high quality level. Our strength is the design and manufacturing of stainless process equipment for power plants, pulp & paper plants, the chemical industry, water treatment and the steel and metal industry.

Examples of products and services are:
Shell & Tube Heat exchangers
Service/retubing of heat exchangers
Process and pressure vessels
Products for separation of solids and liquids
The manufacturing and sales of special products for the furnace industry are made in the daughter company Thermalloys.

Our manufacturing is performed in own workshops, with a total area of ca 10.000 sqm. We have modern and efficient equipment suitable for manufacturing of the products we have in our program.

In our pickling plant, one of the largest in Scandinavia, we can pickle stainless steel products with a length of up to ca 20 meters, a weight of ca 30 ton and a diameter of ca 4 meters.

We have about 550 welding procedures for combinations of materials, dimensions, geometries and standards.

The design and manufacturing is performed according to the quality systems ISO 9001-2000 and ISO 3843.

We have a very high knowledge of the microstructure and
properties of stainless steels and nickel base alloys, including welding metallurgy, plate forming, corrosion and mechanical
properties. This makes us very efficient as well as secures a high quality of the manufactured products.
---
Siljan Allards AB, Phone +46(0)248-125 35
Fax +46(0)248-137 85
E-mail: info@siljanallards.com
www.siljanallards.com
---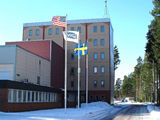 Main office in Rättvik, Sweden